Mt. Lebanon
Welcome to 208 Beverly Road, Mt. Lebanon, Pennsylvania
View some Sample interior pictures
208 Beverly Road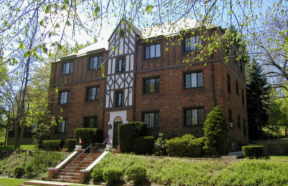 8 Units; One 2 Bedroom & 7 One Bedrooms

Call 412-661-4456 for pricing and availability

Off Street Parking
This quaint, Tudor style, three-story apartment building is located at the corner of Beverly Road and Parker Drive.
The kitchens in each of these apartments are equipped with ranges, refrigerators and dishwashers.
Laundry facilities and storage lockers are located in the basement of the building.
A side lot provides convenient parking for the tenants of this immaculate complex.
For any further information or to make an appointment, contact Cheryl or Mary at (412)661-4456.